Cross Border Case Study – Holywell Trust
07 Jun 2023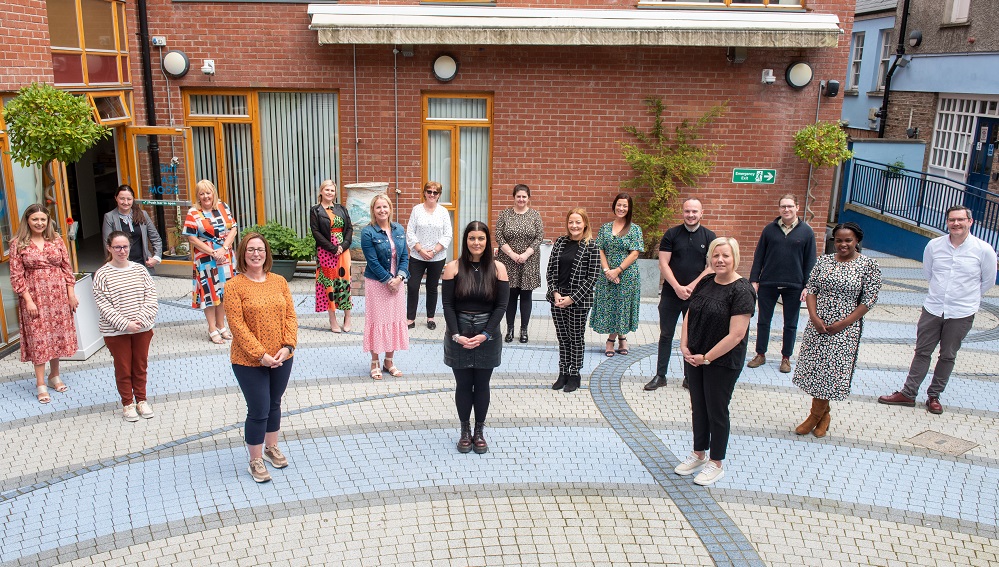 Holywell Trust, a community relations and community development organisation based in Derry-Londonderry, recognises the inherent value of the cross-border dimensions that permeate its work, and the lives of those in the border regions. With an understanding of the natural hinterland and the close connections that exist, Holywell Trust embraces these dimensions by actively seeking meaningful partnerships to amplify its work, and to foster valuable opportunities for cooperation, learning and growth.  
An example is their Future Leaders Programme – a year-long leadership development opportunity designed for early-career or aspiring leaders in the Community and Voluntary Sector. The programme is underpinned by community development and community relations principles, addressing the critical need for increased capacity and succession planning in the sector. In 2022 they were able to build in a cross-border dimension in partnership with Lifford Clonleigh Resource Centre, with support from Community Foundation Ireland as part of the All Island Fund. Although cross border participation is common in Derry, funder restrictions often mean it must be monitored on an under-the-radar basis – the support provided a legitimate opportunity for 10 Future Leaders from Donegal to join the cohort and collaborate with a diverse range of colleagues from across the North West.  
This case study highlights some of their key reflections from the experience.  
Programme Structure – Future Leaders offered a year-long development opportunity for 30 participants: 
Intensive kick-start residential

 

Weekly learning sessions covering 20 themes with guest expert input (topics ranged from the constitutional question to fundraising and tendering best practice)

 

Three-day study visit to Dublin examining leadership in a range of contexts

 

Mentoring

 

Seminar event to showcase the learning

.
Cross-Border Dynamics and Relationship Building: 
The programme acknowledged the unique challenges faced by citizens in both Derry and Donegal, the rural and urban divide, the peripherality and distance from seats of power. It addressed political instability, Brexit, infrastructure and other external factors that shape communities.  
By facilitating cross-border dialogue and building relationships, participants gained a deeper understanding of the challenges, asked important questions and explored opportunities for collaboration.  
There were cultural nuances between the jurisdictions – real and perceived – the conversations spanned capacity difference, pay analysis, national occupation standards, policy drivers, dealing with the past and identity. The 'safe space' created (as highlighted in the external evaluation as a key success metric) was frequently acknowledged by participants as being instrumental in affording the opportunity to have open, honest and oftentimes, difficult conversations. The similarities far outweighed the intricate differences – through shared experiences and collaborative learning, participants gained insights into how cross-border cooperation can address common challenges and drive positive change in both regions. Myths were dispelled and new partnerships formed.  
The opportunity to spend three days in Dublin was an integral part of enhancing the connections internal and external to the cohort – learning from and engaging with established leaders by day (ESRI, DCU, Citizens Assembly, Peter McVerry Trust, Croke Park, The Wheel, Aontas and others) and nurturing friendships by night. The experience raised participants' eyes from their own context and provided a lens through which they could examine issues at scale and proximity to a seat of power.  
Benefits of Cross-Border Cooperation 
The benefits of cross-border working extend beyond the experience of this group. Cross-border collaboration allows organisations to tap into a wider pool of expertise, resources and perspectives. By engaging with counterparts from different jurisdictions, organisations can gain valuable insights into best practices, innovative approaches and lessons already learned. Exposure to new perspectives can stimulate fresh thinking and encourage development of more comprehensive solutions to complex challenges – importantly, it can also contribute to a more connected and cohesive society by bridging geographical and cultural divides.  
Cross-border Leadership  
Future Leaders served as a valuable learning experience for aspiring leaders on both sides of the border and for Holywell Trust as an organisation. The benefits are clear but resources must be sought to legitimise the process and to normalise working in this way. With a truly deepened understanding for each respective region, participants emerged from the programme equipped with the tools, insights and most importantly, the networks necessary to lead their communities to a shared and more cooperative future.  
Future Leaders forms part of Investing in Community Leadership – a partnership between Fermanagh Trust, Rural Community Network and Holywell Trust, supported by the National Lottery Fund. 
Holywell Trust is launching a Cross Border Leadership Seminar series in September 2023 with support from the Community Foundation Ireland's All Island Fund.  
Read more about the Future Leaders Programme here: holywelltrust.com/future-leaders