iCommunity is where nonprofits and social enterprises in the Republic of Ireland and Northern Ireland come together to learn from shared experiences.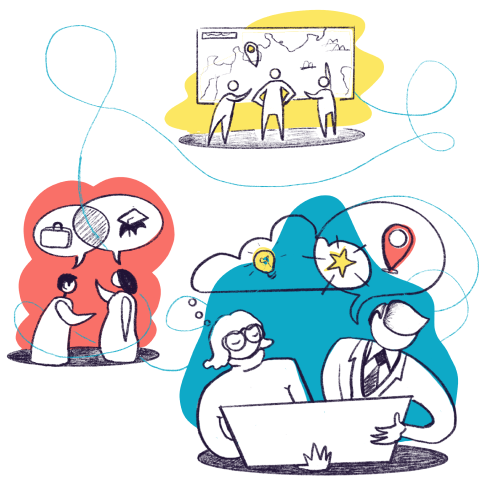 What does the project do?
The project brings people and communities together to explore key themes, make plans to work together and showcase what works in our communities.  
Together we are identifying emergent local, regional, and all-island responses to challenges such as transitioning fairly to sustainability to meet the global challenge of Climate Change and the SDGs, rural connectivity and development, digital inclusion and remote work, and how to scale social enterprise and other responses to mitigate the impacts of the pandemic and other emerging crises.  
iCommunity is a joint initiative of The Wheel and NICVA (Northern Ireland Council for Voluntary Action), and is supported by the Northern Ireland Department for Communities, the Shared Island Unit in the Department of the Taoiseach, the Department of Foreign Affairs Reconciliation Fund. 
The iCommunity project launch
You can watch the video below from our project launch on  6 December 2021 as part of Shared Island week by the Taoiseach's office. 
The project was introduced by Chairs of The Wheel and NICVA, Vincent Keenan and Olwen Lyner; Ivan Cooper, Director Public Policy at The Wheel; and Geoff Nuttall, Head of Policy and Public Affairs at NICVA. They gave an overview of the ambition of the project and introduced its new Director, Suzie Cahn.
Minister for State Simon Coveney (ROI), and Minister Deirdre Hargey (NI) explained why they see such civil society engagement as a vital ingredient for communities across the island to meet our shared challenges. 
A Panel discussion on the benefits of all-Island collaboration was hosted by Seamus Boland, CEO of Irish Rural Link, focusing on some of the project's main themes:
Covid recovery: Lisa McIlherron from Inspire Wellbeing, an all-island charity and social enterprise.

 

Rural connectivity: Kate Clifford Director, Rural Community Network, a national network of organisations and individuals campaigning for sustainable rural development in Ireland and Europe 

 
Social Enterprise and economy: Chris Gordon of the Irish Social Enterprise Network, the national representative network of social enterprises in Ireland.

 

Environment and sustainability: Karen Ciesielski  of the Irish Environmental Network, a network of individual environmental Non-Government Organisations (NGOs) that work individually and, as appropriate, jointly to protect and enhance the environment.

 
The summing up was delivered by NICVA and The Wheel's CEOs, Seamus McAleavey and Deirdre Garvey