iCommunity is where nonprofits and social enterprises in the Republic of Ireland and Northern Ireland come together to collaborate and share practice and experience and learn from each other to address shared challenges.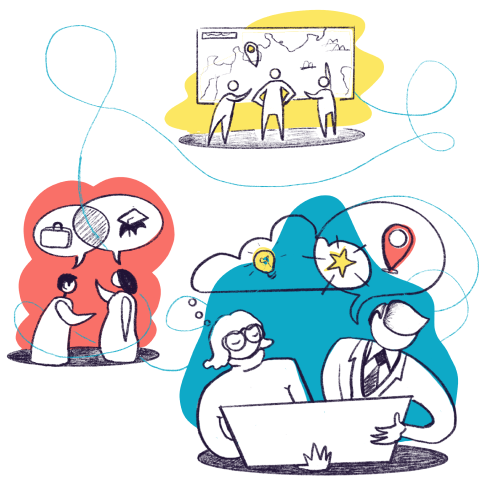 What does the project do?
The project brings people and communities together to explore key themes, make plans to work together and showcase what works in our communities. Together we are identifying and showcasing emergent local, regional, and all-island responses to challenges such as transitioning fairly to sustainability to meet the global challenge of Climate Change and the SDGs, rural connectivity and development, digital inclusion and remote work, and how to scale social enterprise and other responses to mitigate the impacts of the pandemic and other emerging crises. iCommunity is a joint initiative of The Wheel and NICVA (Northern Ireland Council for Voluntary Action), and is supported by the Northern Ireland Department for Communities, the Shared Island Unit in the Department of the Taoiseach, the Department of Foreign Affairs Reconciliation Fund. The iCommunity project commenced on 6 December 2021 as part of Shared Island week by the Taoiseach's office.
The iCommunity Vision Launch
On the 3rd October iCommunity launched the results a vision for addressing challenges on our Shared Island. This vision was the result of months of engagement with the community and voluntary sector in both jurisdicions at events and via the Across Divides podcast. Read more:
https://www.icommunityhub.org/icommunity-a-vision-for-addressing-challenges-on-our-shared-island/
Speakers included:
Taoiseach Micheál Martin

 

Minister for Communities, Deirdre Hargey MLA NI

 

Project Director Suzie Cahn 

 

Wheel Chair Vincent Keenan and NICVA CEO Seamus McAleavey)  

 

Alex McMaster- Podcast co-producer  

 

Young people from Fighting Words NI Kaila Patterson & Patrick Maginnis
Iva Pocock: Opportunities for Community-led Climate collaborations
Marina Cunningham, Travellerheritage: Social Enterprise learning from exchanges -
Megan McDermot: Centre for Cross Border Studies: Context for collaboration.  

 
Watch a condensed version of the project launch below...