Cuilcagh 2 Cleenish: A Great Place Project
16 Feb 2023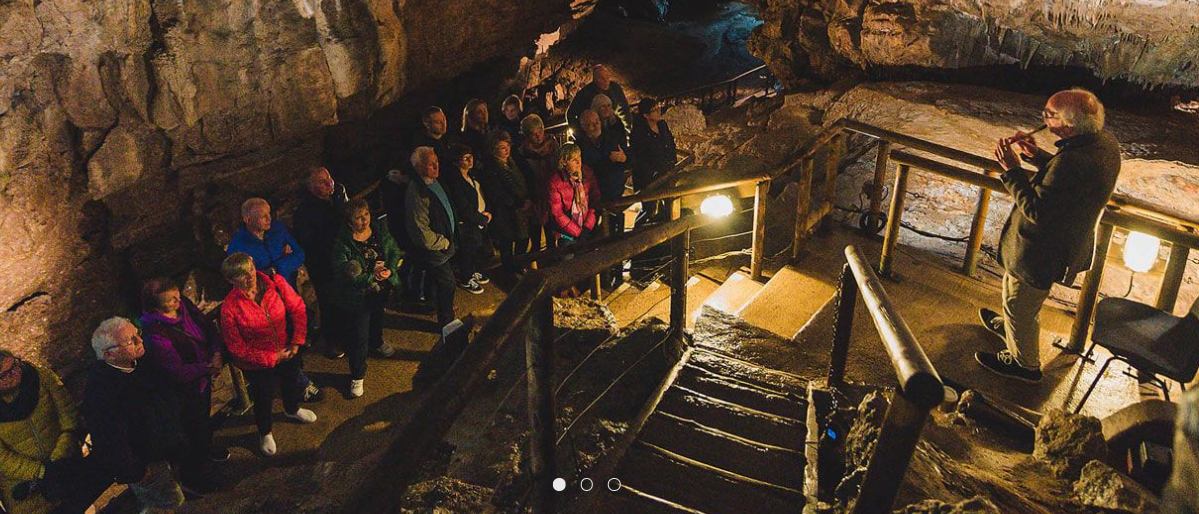 Background & Collaberation– Who and How?
The Cuilcagh to Cleenish: A Great Place Project (C2C, the Project) was a three-year project (October 2018 – September 2021) supported and funded, £300,000, by the National Lottery Heritage Fund and Cuilcagh Lakelands UNESCO Global Geopark/Fermanagh and Omagh District Council (FODC) which prioritised connecting people and communities in south-west Fermanagh through communityled heritage, culture and outdoor recreation initiatives.
The C2C Project was based in west County Fermanagh, approximately 7 miles from Enniskillen. Its focus area was at the heart of Cuilcagh Lakelands UNESCO Global Geopark extending from the top of Cuilcagh mountain on the Fermanagh/Cavan border to Cleenish Island on the shores of Upper Lough Erne. The area includes attractions/sites such as the Cuilcagh Lakelands UNESCO Global Geopark, the National Trust's Florence Court, the Arney River and several rural communities including Killesher, Arney and Bellanaleck.  These 3 local communities collaborated with The communities of Cleenish, Bellanaleck, Arney and Killesher with the support of Outdoor Recreation Northern Ireland (ORNI), Lead Project Partner and Cuilcagh Lakelands UNESCO Global Geopark formed a management group and collaborated to deliver a truly unique project which sought to promote, preserve and celebrate the heritage and culture of the area, enhance local rural community development by connecting people to their heritage, and promote the area as a cultural destination where people are attracted to visit and explore.
Achievements
The achievements of the project are wide ranging and significant.  The development of community trails has been a priority of the C2C Project from the beginning, with the overall aim of developing a community trail network plan for use by local and visiting walkers, cyclists, and canoeists. The community trails are the 'golden threads that connect people to the built and natural heritage assets which they considered important'. Throughout the duration of the programme, there were significant developments on community trails with the completion of construction ongoing on two new walking trails (Arney Battlefield Trail (1.9km) and Nixon Hall Trail 2.5km) (11 new landowner agreements). Furthermore, there has been remarkable progress made on the remaining Arney River Canoe Trail which will ultimately provide a 27mile canoe trail from Lough MacNean to Bellanaleck. Initial phases have secured funding with Phase 1 complete and a plan and commitment is in place for the Geopark to deliver on the outstanding phases. These trails were selected following local consultations in which the community were invited to contribute and share areas within the local landscape which were significant, meaningful and which they prioritised for development
'Meanwhile Projects' allowed people of all ages to get involved in activities focussed on local history, heritage and culture and have raised awareness and the profile of the project. In addition, Meanwhile Projects allowed a significant number of volunteers to get involved and develop skills relating to history, heritage and culture and have proven to be the starting point in many individuals' interest in the historic and cultural significance of their own local area. Meanwhile Projects allowed local people to explore their past and better understand their heritage and culture. The wide range of projects including history talks, canoeing, music, archaeology, and the arts ensured there was something of interest to all. Further, the C2C Project offered completely unique opportunities which could not be accessed outside of the project such as an underground concert in the Marble Arch Caves, an award winning Memory Map and community-led archaeological dig. 18 Meanwhile Projects were successfully delivered engaging 650 people and 105 volunteers.  Children and young people were an integral focus of the programme and the UNESCO Global Geopark team and our Heritage Chamjpions worked with nearly 240 school children from the 4 local primary schools to deliver a locally focused education programme where they had the opportunity to undertake, some Earth and Natural Science experiments, create their own Nature inspired artworks, learn more about their local townlands, gain some bushcraft skills and canoe on Lower Lough MacNean.
'Placemaking' has been highlighted as an important concept and one which has been a strong focus of C2C. Placemaking through the C2C Project has involved a hands-on, interactive, and community-led approach from local communities and individuals who have been encouraged and inspired to reimagine local spaces and sites. Local people, through participation in the project, have been supported to maximise the value of their local spaces focussing on helping rural communities to be sustained, evolve, and grow. Furthermore Local People indicated that they have an improved understanding and appreciation for local heritage, improved health and wellbeing,  increased participation of volunteers, improved protection, management and conservation of historic resources and local environment and improved social capital, community ties and strengthened civic engagement. The Community Associations have benefited from improved capacity for local solutions to local problems, improved partnership working and collaboration between local community and voluntary sector organising and  between Geopark and other statutory agencies and voluntary/community sector. Indeed, Social Return on Investment (SROI) analysis has also been undertaken for C2C Project.  SROI is an outcomes-based measurement tool for measuring and communicating the broad concept of value that incorporates social, environmental, and economic impacts.  Approximately £12 of social value was created for ever £1 invested in the project.
Challenges:
There were many challenges faced by the Management Group during the project, not least as it operated during and against the backdrop of a Global Covid-19 pandemic but event that couldn't curtail the momentum and enthusiasm of these local communities and Management Group whom have worked relentlessly throughout to ensure this project has been a success. Project activity did not cease during this period with innovative methods adopted to achieving the remaining 'Meanwhile Projects' in particular.
As with any community project, and especially the C2C Project, the expectations of the community have remained high throughout. This, whilst being a reassuring factor and proof of how the project has captured the imagination of the wider community, has at times proven challenging. With the C2C Project aspiring to having Community Trails on the ground, the community have been eager to see progress. Trail development can be a slow process and a challenge faced by the Management Group has been managing expectations and maintaining momentum in relation to trails to ensure the community do not become impatient with the process or lose faith in the C2C.  Landowner engagement and negotiations in relation to Community Trail development has proved challenging at times, with the Management Group working hard with landowners to deliberate and negotiate land use. The drive and determination remained consistent, but in many instances the work relating to trail development was strenuous with landowner support not always received for a number of reasons outside of the Management Group's control. In some cases many hours' work was  into negotiating and pursuing the development of a trail which inevitably did not come to fruition leading to no tangible reward for effort in some cases.
The Future: 
Building on the collaborative model between the Cuilcagh Lakelands UNESCO Global Geopark and local communities, a Legacy Delivery Plan was progressed, reflecting the cross border nature of the Geopark, focusing on a wider landscape – communities within a 10-mile radius of Cuilcagh Mountain both in Northern Ireland and Republic of Ireland, with the aim of connecting the landscape and communities to their shared heritage around the Mountain.  Critically, the 3 communities involved in the C2C Project had the opportunity to get involved in this project, and to bring their experience and skills developed through C2C to the table – helping enthuse and support a new audience to heritage. The Plan will be progressed by the Geopark Team in future and in addition to providing a roadmap for heritage focused community engagement and development acting as a catalyst for the identification of a diverse range of heritage-focused projects.
To find out more about the Cuilcagh 2 Cleenish Project please visit www.c2c.org.uk or to find out more about the Cuilcagh Lakelands UNESCO Global Geopark visit www.cuilcaghlakelands.org or email, Gráinne O'Connor, Geopark Manager, goconnor@cavancoco.ie or Martina O'Neill, Countryside Management Offier, martina.oneill@fermanaghomagh.com.