Views
Fostering All-Island Collaboration for Sustainable Development in the Community Sector
16 Nov 2023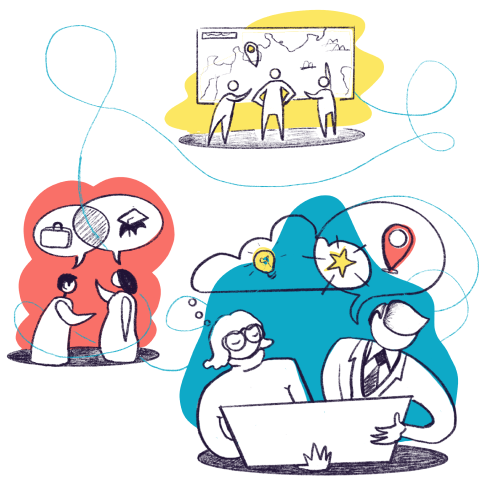 As the iCommunity project celebrates its second anniversary on December 6, 2023, project director, Suzie Cahn reflects on its impact, focusing on cross-border and all-island exchanges.  
In the dynamic landscape of the community, voluntary, and social enterprise sector, cross-border knowledge exchange has been a pivotal catalyst for its sustainable development. It is well-known that the European Union actively promotes this exchange through various initiatives, aiming to harness the collective expertise of diverse organizations, encouraging the exchange of innovative ideas, best practices, and solutions to common challenges. 
The uncertainties surrounding Brexit, including the absence of a Northern Ireland Assembly, prompted the creation of iCommunity, with the intention of addressing a crucial gap. The funding deficit in Northern Ireland has only cemented our resolve in continuing this joint initiative between the Northern Ireland Council for Voluntary Action (NICVA) and The Wheel. Both organisations share a vision of strengthened ties between the community and voluntary, charitable and social enterprise sectors across the island of Ireland. Indeed, fostering collaborative learning and sharing best practices across jurisdictions is increasingly recognised as critical, irrespective of the funding context. An interconnected flow of knowledge enhances organisational resilience and cultivates a stronger and more adaptable sector, one capable of making the largest possible societal impacts. 
As iCommunity enters its third year, the project has become a hub for amplifying the work of a growing network of organisations through case studies and opinion pieces. Some organisations, such as AONTAS, are renewing efforts to be visible in both jurisdictions. Others, like the Women's Council, are supporting individuals dedicated to cross-border collaboration. Notably, the Irish Environmental Network (IEN) and Northern Ireland Environment Link (NIEL) launched a report, "Linking the Irish Environment", which contained recommendations on improving north/south cooperation on the environment. These shared experiences, lessons learned, and collaborative efforts demonstrate not only the usefulness but the growing appreciation of shared learning. 
Other recent examples of all-island knowledge exchange are featured elsewhere on the iCommunity website, showcasing the growing breadth and diversity of cross-border cooperation. I invite you to explore our Case Studies here; our podcasts here; our news section here – and, don't forget to sign up the iCommunity Newsletter here.
We feel certain that many more exchanges will emerge as old connections are deepened, and new connections and relationships continue to flourish.