Reconciliation Fund Accepting Applications Until 14 March
16 Feb 2023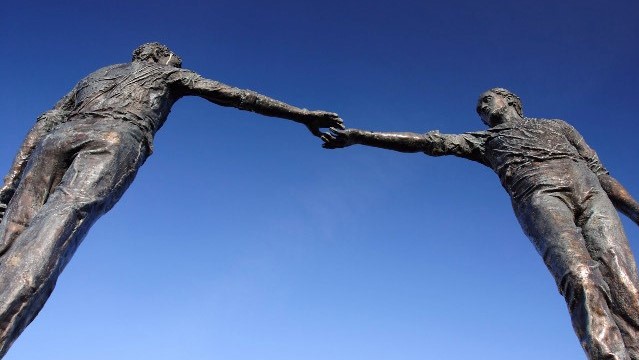 Long term commitment to peace building continues by Irish Government's Peace and Reconciliation fund- which is changing to one annual call this year.  
The Irish government's commitment to promoting peace and reconciliation in Northern Ireland and Ireland as a whole grew and developed particularly over the last 25 years since the Peace Agreement. This has been visible in the increases in funding levels for the Peace and Reconciliation Fund reflects.  
The strategy behind the fund has two main pillars: repairing division and building a strong civil society. In addition to these, the fund also places a strong focus on promoting understanding and empowering underrepresented voices. 
The Irish government is of course aware of the complex history of conflict, division, and violence between different communities and traditions in Ireland and Northern Ireland. A history marked by mistrust and misunderstanding, but the funding strategy document outlines the progress made through successive agreements. There have been many positive steps towards reconciliation and the Peace and Reconciliation Fund is a demonstration of supports given to the commitment on the part of the Irish Government.  
Projects supported by the fund are aimed at repairing division in Northern Ireland, building a strong civil society, promoting understanding, and empowering underrepresented voices. The fund also places a strong emphasis on building sustainable North-South links through the development of relationships and connections. 
The Irish government is also open to exploring new and innovative approaches to reconciliation, such as using arts, culture, sports, skills development, and dialogue. This approach reflects the government's determination to find new and effective ways to bring people together and build a more reconciled, peaceful, and inclusive society. 
Funding Priorities
The following sets out funding priorities, in line with our new Reconciliation Fund Strategy:
Thematic Pillars
Our funding priorities continue to be rooted in two key overarching thematic pillars – repairing and building.  For 2021-2024, the Reconciliation Fund will focus its support on reconciliation and peacebuilding work that seeks to:
Repair those issues which lead to division, conflict, and barriers to a deeply reconciled and peaceful society;
                                                      and/or
Build a strong civil society that encompasses all communities, through the continued implementation of the Agreements and promoting a rights-based society, political stability and respect for all.
Priority areas
Applications should be in line with one or both of these overarching pillars, while also focusing on one or more of the Reconciliation Fund's priority themes/activities.  Requests for funding support should therefore involve projects which support at least one of the following priority areas:
Through dialogue or other means, seek to build understanding between peoples and traditions, whether within Northern Ireland, on a North-South basis, or on a British-Irish basis.
Promote inter-community links and reduce segregation in Northern Ireland, including in the areas of integrated education and housing, and the use of shared community spaces.
Build sustainable North-South links through the development of relationships and connections.
Develop and deepen relations between Ireland and Britain.
Seek participation in the most hard-to-reach and marginalised communities (in terms of economic and social deprivation), or those not normally involved in reconciliation and peace-building work, in line with the Government's commitments made at the time of the NDNA Agreement.
Seek to address the legacy of violence during the Troubles.
Specifically target sectarianism, and which are aimed at eliminating sectarianism from society.
Help to tackle paramilitarism and support the transitioning of members of paramilitary groups to peaceful, democratic activities.
Employ a transgenerational approach, helping a younger generation to be more aware of the recent past and to break the cycles which are barriers to long term reconciliation.
Develop the role of women in peace-building and civic and political life, in line with UN Security Council Resolution 1325, and which build their capacity to take their rightful place as leaders in society.
Educate and illuminate the events of the past, and in particular the events of the Decade of Centenaries, in order to deepen understanding and promote respect and tolerance between different groups and traditions.
Explore issues around identity (including language and other cultural traditions) in ways that promote understanding, tolerance and inclusivity, or help to recognise the common aspects of traditions and identities shared by different groups.
Involve academic research likely to significantly promote mutual understanding, peace and reconciliation, including in the context of the Government's commitment at the time of the NDNA Agreement to commission research on the challenges faced by border communities (with a particular focus on minority communities in border counties).
Empower diverse, underrepresented or new voices to articulate their views on issues relating to reconciliation.
Assist communities from different traditions in trying to build a shared vision of the future.
Other factors guiding consideration of applications
In addition to assessing whether applications contribute under the thematic pillars and key priority/activity areas outlined above, we will be guided by a number of other factors in considering funding applications:
General factors:
General factors which will be used in assessing applications will include:
Geographical location of activity, with the aim of ensuring an appropriate spread of funding;
Value for money of the project;
The organisation's financial management capacity, governance arrangements and sustainability;
The funding environment for the particular sector.
Full Details
Full application guidelines and details are available here. 
The deadline for all application is Tuesday, 14 March @ 2pm.